The end of this month is your last chance this winter/spring to plant bare-rooted fruit trees, soft fruit bushes and roses. Once March has gone and spring is in full swing all of those winter tasks can be forgotten until the end of Autumn in November.
Diary week ten March 5th - March 11th

2009

Wednesday March 11th This time last year I was making my second compost bin out of pallets. Now a year later I am emptying it for the first time. Mostly the contents were well rotted with the exception of the odd old stalk, the futon felt and the inevitable non biodegradable plastic. I stopped digging out the contents near to the bottom of the bin where the rodents have their nest. Is it an old nest or new one? If it is a new one I will give them some time to vacate the bin before digging the nest out. Pictures

Monday March 8th 09 I did manage to do a fair amount of digging today and cleared right around the dog rose and extended the path down the middle a few more feet. I am slowly putting the plot back to nearer what it was when I took it on as I am fully aware it is only mine whilst I work it and I will be very lucky indeed if I am still working it in my 87th year as Ceril, two plots down, is doing this year

Photos March 8th 2009

Sunday March 8th 09 Today started with sunshine and at lunchtime I was able to check the bees hives in the allotment for flying bees. All the hives there now had flying bees today. But by the middle of the afternoon it started to rain just as I finished putting the first coat of undercoat on the new upstairs windows at the front of the house. So no more outdoor painting today. But as the rain didn't keep up apart from the odd shower I was able to get up to the allotment and continues digging and clearing it up. There is plenty to do up there.

In the middle of my plot is a large dog rose that has been the centre of a patch of nettles. Originally I have the idea that i would graft onto this rose the create a standard rose. I didn't try the grafting and each year think that maybe a bird would decide to nest in there. I even planted a honey suckle at the base of the rose to provide a bit more cover but I fear the position is just not secluded enough for the birds. The stinging nettles have become well established and I must get most of them out before the begin to start growing fast again.

Saturday March 7th 09 The base of the small pear tree in the middle of the plot was possibly not the best place to plant one year old gooseberry cuttings (see last year's photos) as a couple of them I have trodden on. Those that did survive I have moved on today. I have been quite severe with their pruning cutting them down and leaving just enough main buds to provide one on each of the main points of the compass. I also cleaned the stems of buds and roots leaving only the roots at the bottom of the cutting. I want these to grow in a bush open cup shape rather than as long tall cordons.

The aconite seeds that germinated last year now have their first tell tale cut leaves. They are still very small and delicate seedlings but it is possible with a little care to dig them out from the main clump move them on to new quarters.

The snowdrops are fading now and many have their green seed pods forming. Last year's seedlings are in just one pot but there are three pots from the year before under the cherry plum tree that I will probably plant out somewhere this year.

Photos March 5th 2009

2008

Pictures 9 th March 2008

Sometimes it can be frustrating when other things in life get in the way of your gardening. Of course I'm lucky that I have other things apart from my gardening and I know that many people in the world have no option other than to work hard to make their patch of earth provide them with just enough to eat. Indeed if I had to live on just what I grow I would be very skinny person. So I can't complain about my lot in life.

What I sow at this time of the year and in the next few weeks make a lot of difference to what is growing throughout the summer, autumn and next winter and I could do with spending days rather than hours in the allotment right now. As I know I won't have much time in the next few weeks I have planted the first of the early potatoes. This may make work for me later on when I'm trying to protect plants from frost that are just too big to earth up but that is the risk I'm going to have to take.

I have at last made a second 'box' for the composting system even though a gooseberry bush that is several years old has had to be moved.

My first attempts to grow snowdrops from seed was of mixed success. I think I treated them too harshly in the second year and buried their pots too deep. The second lot of pots have seedlings in now and are still above ground. I'm conerned that they don't dry out too much even though they are sited at the base of the cherry plum tree.

2007

Sunday March 11th 2007. A warm, sunny spring like day. We planted the first of the new potatoes today. I'm a little late in sowing my Green Windsor broad beans that in the past I have tried to get sown around the 23rd of February but I did get some in today. I'm still moving gooseberry bushes around and have a some left to move and some pruning left to do. As the weather was warm and sunny I had to get started on pruning the large goosberry bushes at the end of the plot that were still covered in pea sticks and in need of rescue as they had flower buds developing on them. If this warm sunny weather continues they may soon come into bloom.

Saturday March 10th 2007. I checked over all the bee hives and gave them a boost of extra feed. So far four of the five hives on the allotment site have come through the winter well enough to have flying bees and I'm hopefull that they will all have queens that are laying now.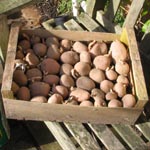 Potato
Seed potatoes are purchased new each year in order to prevent the crop suffering from
potato blight.
Some varieties are more resistant to blight than others. There is a lot of online information on
Blight.
A new
GM blight resistant potato
has also been developed.
2006
Saturday 11th March 2006. I finished digging around and under the greengage tree that I started working on last week. I'm not sure exactly what I am going to do with this ground. I guess I will have left some stinging nettle root behind and that will grow again as will the grass. I could just keep hoeing it for a year to clean it up a bit or I could fill the whole area with snowdrops and aconites. I would need to put my hand deep in my pockets and buy in some more plants to do that. I am temped.
Wednesday 7th March 2006. The rain has arrived and the weather has warmed up a bit. On inspection all the of beehives are showing some signs of life, although judging by the number of bees coming and going, some hives seem to be much stronger than others. The earliest of the aconites and snowdrops now have small seedpods on but the main bulk of the snowdrops and the aconites under the blackberries that were planted there last year were still being visited by the bees today.
Sunday March 4th 2006. We are looking forward to a milder spell and some rain. The rain will be useful for settling the transplanted snowdrops in their new home. I am clearing the area under my smaller greengage tree out and digging the ground over. Part of the area had a pile of old flowerpots and 'useful' fertiliser bags on it. That had provided a great home for snails and a feasting area for the mice that had collected up all the fallen plum stones and eaten a neat whole in the side of each. The greengage had had a bumper crop on last year. My greengage trees throw up clumps of suckers at the ends of their roots that once left for a few years can be dug up for new trees.
2005
After a weeek of snow and ice there wasn't much one could do in the allotment other than pruning this weekend. There was still a good covering of snow on the ground.
2004
Saturday March 6th and Sunday March 7th 2004 The cold spell continues with short spells of sunshine breaking through occasionally giving a faint promise of a spring not yet sprung.
In the middle of the day I quickly opened up the four bee hives in the allotments and inserted chemical strips to help control the Varroa mites. I also gave three of the hives some honey feed - lets hope the weather warms up a bit and the bees will be able to get out and feed themselves.
I am still planting out shallots and preparing ground for planting out potatoes. I haven't finished punning all of the gooseberries yet, although I did more this weekend and now have a complete row of Geoff's red gooseberry 'Whithams Industry' as a results of punning his bushes for him some years ago. Prunning the bushes is important if mildrew is to be kept under control.
The hand weeding has begun again and now my garlic are standing like a row of green soldiers in a brown zero tolerance weed free zone. The self sown lettuce are a little more random. The fancy kale that Elka gave me last year didn't like the dry summer - but those that came through look good now and I will let one plant flower and keep some seed from it.
I gave the spring cabbage a final feed of liquid feed and then emptied out the dustbin ready to start again with an empty bin that I will fill with weeds and comfrey leaves covered in water making liquid feed that can be watered down and used as a foliar feed.
2003
2003 Sunday March 9th A warm sunny spring like day with winds from the south west. I planted the first potatoes of the year today and pruned more gooseberries.
2002
March 9/10 The whole weekend was dominated by gale force winds. Managed to plant out onion sets and dig first stretch of ground for new potatoes. Planted an apple tree (that Geoff didn't want). Next job - dig ground for runner beans and more ground for potatoes. Bought new raspberry canes and cabbage plants that need planting out.
March 7th . The first sunny warm day and although it was a little windy it that it seemed reasonable to open up and inspect the bee hives. Fortunately all of my four hives have come through the winter months intact and each has a laying queen. The apiary has rabbits but fortunately they don't seem to like eating snowdrops and aconites. My stocks of these two early flowering plants (for the bees) are gradually increasing and the larger aconites have three generations of seedlings around them.
2000
4th / 5th March A bright, cool, dry weekend of garage maintenance and very little gardening. Pruned Clematis.
1999
March 6/7th 1999 The weather reminded us this weekend that it is still winter at this time of year no matter how much we wish it to be spring. This was an ideal weekend for DIY and as a result I now know lot more about sanding and varnishing old pine floors.
Urban Jungle Sell exotic and jungle plants including cannas, gingers, bananas, tree ferns, palms, bamboos and aroids by mail order and from their nursery in Norfolk.