Diary week six Feb 5th - Feb 11th
2009
Sunday 8th Feb I have filled my runner beean trench with muck and spent some time moving snowdrops. We are forecast snow but have no snow although the air is still too cold for the bees to fly even when the sun is out as it was this morning and early afternoon. Saturday 7th Feb 09 The muck man arrived as arranged. It was 10am and a bright sunny morning and the ground was frozen solid after frosty night. Over the winter the end compost heap has been filling up and as the muck has now arrived I gave that heap a good layer of muck on top of it's final layer of cardboard before covering the whole thing with an old rug. I can leave that heap now until May/June when I will remove the rug and plant a couple of squash on top. Come this November when the first Autumn frosts arrive and the ripe sqash have been taken in to store I will dig out the contents of that container and (given that the pallets are still sound) start filling it up again so the whole process can begin once more.
Photos
Friday February 6th 2009 Yet again our weather was out of step with a large part of the British Isle which is under a thick layer of traffic crunching snow. Here it tried to snow but it just wasn't cold enough and we had rain and not much of it at that. In the afternoon I was able to get on with moving plants around in the allotment.
My two
greengage
trees give me a contant supply of
suckers
as they produce a few more each year. I leave many to grow to reasonable size before digging them up but some are just in the way and need to be moved. I will take some of the bigger ones to the allotment shed and offer them for sale. Some of the strawberries I moved last year have produced plenty of new plants and I have been moving them around and creating new clumps here and there.
2008
The weather turned warm and sunny this week. The bees are getting out onto the
snowdrops
and the
cherry plum blossom
. Bought seed potatoes. Dug up
greengage
suckers and moved yet more
snowdrops
to a new site under the smaller
greengage
tree. Sowed first carrots. Started pruning goosberry bushes.
9-2-08 images
7-2-08 images
6-2-08 Images
2007
Saturday February 10th 2007 Sunday February 11th 2007 We have come to the end of a week that has featured hard frosts and snow (not a lot of snow here though) but by the time the weekend came around the weather had turned mild again and on early Saturday morning we had quite a lot of rain.
I have now finished moving aconites and
snowdrops
around in the allotment and moving the red gooseberry bushes from one allotment to another. I spent a lot of time preparing the bed for the snowdrops last year by removing the bindweed and digging in muck. So I hope I have given them the best possible conditions in which to thrive and increase in numbers.
It seems that there is now some debate on the best way of pruning the autumn fruiting raspberries. Up until now our process has been to cut down all of last year's fruited canes almost to the ground allowing completely new canes to grown up again from the base. Now the alternative view is to cut the canes back by about a third and to leave them to fruit again this year. So that is how I have pruned ours this year. We shall see what happens later in the year. It was John who heard this advice on the BBC although he has already cut his right down. I suppose we will be able to compare ours with his to gain a comparison of the two pruning methods.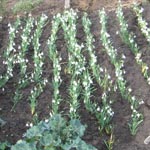 Snowdrops
The new
snowdrop
plantation looks a little mechanical with the snowdrops planted in rows but my primary intention is to increase my stock of snowdrops and to have snowdrops flowering for the bees rather than providing a treat for the eyes. Viewing from another angle makes all the difference though (click picture)
2006
Saturday 11th February 2006 Autumn fruiting raspberries are easy to grow and always produce a reliable crop if given a little care and attention at this time of the year. They are the easiest plant in the world to prune as you simply cut them off just above the ground. By doing this you are removing the old wood that had fruit on last year and leaving space for new growth to replace it. To get a good crop it is important to give the plants a generous helping of well rotted manure and to weed them well. It is also a good time to transplant them to a new location. Those that are moved can have foot of stem left as they establish themselves in a new location.
The aconites the earliest snowdrops and the double snowdrops are in full flower now. But there are still a lot of the common snowdrops that are only just above the ground as yet. I have only one or two clumps that have been in the same position for two years that I will dig up and move to a new site in a few weeks time. This year it is just a matter of weeding and enjoying the look of them.
I dug up last years rooted cuttings of the red gooseberry 'Whinham's Industry' and took them to the allotment shed to see if anyone wants to buy some. There are plenty more cuttings waiting to be taken this year. This variety certainly provides plenty of good strong new growth thats ideal for striking new plants from.
2005
A gray weekend but not freezing or especially cold - but not warm enough for the bees to come out. Last year the moving of the bee hives out of my apiary and the moving of my bee keeping shed was a major event for me and took up a lot of my time and attention. And it still is is. A few weeks ago the roof to the shed was blowing off in a gale and was removed to the ground by my allotment neighbour Cyril and Bernie from across the way. After putting the roof back on with John's help it was clear that it was no longer waterproof and something had to be done about it. I suppose being an allotment shed it should have a makeshift corrugated tin roof but it has now posh modern 'plastic' corrugated roof. I don't enjoy the hard landscaping and 'structural' side of gardening that much and really only enjoy working with the plants themselves so the chance to move around yet more snowdrops from the old apiary site to the allotment was eagerly seized once the shed was done. Some of the snowdrops that I moved a couple of years ago were now flowering under the blackberries (the shadiest part of my allotment) and I could now sort out the doubles from the singles. It isn't an ideal time to dig them up but I wanted to sort them out and putting a good amount of muck under them in their new planting position I'm sure helps to compensate for the shock of moving and the root disturbance it entails.
2004
Saturday February 7th and Sunday 8th of February 2004 The weather was bitter with strong northerly winds and odd wisps of sleet and snow in the air. The shallots that I had planted a few weeks ago have now rooted and can have the earth around them cleaned away as the birds will no longer disturb them. The lettuce under glass needed watering. I sowed the first 'tall' peas but was told by John that the moon was wrong now and I need to wait two weeks until it wains. The communal greenhouse is finished after John made the staging for it. As the weather was cold it was a good time to get some ground work and earth shifting done down at the end plot once Geoff and I got stuck in the original layout was uncovered and considerable mound of turfs created. Quite what we will do with the mound in the future I don't know - but I guess it will make good loam. The snowdrops I planted under the greengage tree last year seemed to have survived last years long hot summer quite well so I have prepared ground on either side of them to move some more in from the apiary in the next few weeks.
2003
Although the snow has gone, the cold weather continues and the ground is too frozen to dig. However, pruning and general clearing up can still be done.
2002
February 10/11 Pruned grape vine up the side of the allotment shed and one of the smaller apple trees. Prepared ground for Japanese onions to be planted out in - nearly. Obtained load of well rotted leaf mould - will give the gooseberries a good mulch and save some for the asparagus.
2000
February 5th - February 11th Weekend 5/6 Bought and planted more shallots. Began to transplant Japanese onions. The transplanted plants produced much bigger onions last year than those left in situ.
1999
The North wind does blow and we shall have snow.
Urban Jungle Sell exotic and jungle plants including cannas, gingers, bananas, tree ferns, palms, bamboos and aroids by mail order and from their nursery in Norfolk.