November 18th - November 25th
Propagating from hardwood cuttings is really easy to do. Take clean, sound cuttings from your Gooseberry (for example) about 18 inches long and shove them into the ground leaving one third above ground. If your ground is heavy cut into it with a spade. Make sure they are the right way up with the growing tip out of the ground.
2008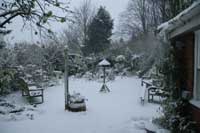 Sunday November 23rd 2008 - I like Simon's piece on taking box cuttings now I take a few every year. They take a long time to grow and are not worth tipping out of the pot for at least a year by which time they should have roots. However if you strike a pot full each year and pot on those from the previous year, after a few year you will have a useful stock of plants at different sizes.
Saturday 22nd November We are covered in snow for the first time this winter.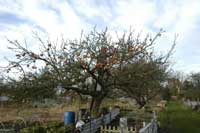 November 20 2008 The soil in my allotment is a light sandy soil. It's what is termed a 'hungry' soil as the nutrients wash out quickly and are always in need of replenishment. Apart from well rotted muck and compost (they also help to build up the soil structure) it needs blood, fish and bone applied on regular occasions. The addition of a sprinkling of lime and wood ash is also very beneficial and is much loved by the cabbages, peas and beans. I gave the spring cabbages some wood ash today.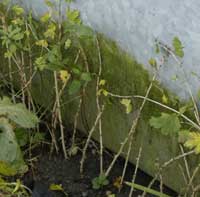 Gooseberry Cuttings
The gooseberry cutting have now rooted and are loosing their leaves. That is a sign that they can be moved on. Although there is no rush to do so as they won't start growing again undtil March next year. They appreciate a lot of food and in my soil are happy to be planted on top of a spade full of muck.
The large cooking apple tree has produced another bumper crop this year despite the heavy pruning I gave it at the start of the year. It did have a bit of a rest last year and probably won't have many on again next year. It's an old tree and has possibly become a biannual cropper now.
2006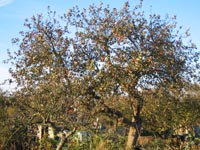 I am amazed by how much this apple tree has produced this year. I seem to have been picking apples from it for weeks now and yet there are still apples on the tree.
2005
Sunday 20th November 2005. I spent some considerable time today clearing the grass from under my small cooking apple tree. This involved digging up the
Star of Bethlehem bulbs
and re-planting them. As they have started into growth they are easy to see at this time of the year. I've moved these bulbs around like this this several times before and it seems to do them no harm at all. Indeed I think splitting them up a re-planting actually does them good and I'm sure that getting all of the various kinds of grass out of there must be good for them. Behind this tree I'm planting out my small tulip bulbs again as I did last year.
Saturday 19th November 2005 It's been sunny every day this week and today was no exception. In contrast to the sunny days the nights have been cold and frosty. I am still digging up potatoes, earthing up leeks and planting garlic.
2004
I finished planting out the tulips bulbs in the allotment. These are all the bulbs not dug up last year when in flower. Some are still too small to flower next year - but those that do I will dig up and move to other parts of the allotment depending on their colour and variety. After digging up the tulip bulbs this year I dug in plenty of muck and planted courgettes in the space left by the tulips. That seemed to work well as the courgettes enjoyed the summer, cropped well but were dead and gone by the time the tulip bulbs needed to be planted out again. I think I will do the same again next year as it's an advantage to keep the tulips in the same spot because there is always the odd one or two that escape being dug up. At least they are already in the right place and not popping up amongst the onions or cabbages.
2002
Today was a mild, sunny, autumn day - a great day to be in the allotment. I finished planting the garlic and started planting the tulips. The bamboo canes that have done the job of giving the runner beans their support in the summer should now be safely stored in the shed keeping dry and sound ready to be used again next years. Some of mine are inside and the remainder will go in tomorrow.
I topped up all the bee feeders but I don't think the bees are taking much feed now. I'm also restricting access to the hives to keep the mice out.
Urban Jungle Sell exotic and jungle plants including cannas, gingers, bananas, tree ferns, palms, bamboos and aroids by mail order and from their nursery in Norfolk.