laslett.info photographic agents
laslett.info/agents Photographers agents who have web sites



Cre8 Photography
Represents
Brian Harris
(reportage),
Matt Cannon
(fashion),
Peter Searle
(Portrait),
Ray Massey
(Liquids)







monacoreps.com James Day Stewart Ferebee, Simon Harsent, Sven Jacobsen, Jonathan Kantor, Jonathan Kantor Portrait, David Katzenstein, Tim Kent, Laura Letinsky, Blake Little, Kiran Master, Scott McDermott, Bob Miller, Oliver, Paffrath, J.W. Scholten, Tara Sgroi, Leon Steele, David Stewart, Nick Veasey, Olaf Veltman

Jamie Stephen Represents - based in London currently representing - Kent Larsson, John Bennett, Jez Matthews, Alex Macro, Gene Kiegel and Colin Thomas.

Arlene Johnson & Associates - San Francisco based photographic agency.

Contrast Photographic Agency - Portfolio of five photographers who focus on photography with a humanist approach.

David Edmunds Represents - Representing advertising photographers in London, UK.

Faucher Artists- Representing Mari Faucher, Mimi Chin, Beatriz Da Costa, Gregor Halenda, Bob Hiemstra, David A Land, Anna Palma, Alexandra Rowley, Victor Schrager, Evan Sklar, Laurie Rosenwald, Julie Flynn, Malina Pearson



Florence Moll Photographic Agency - Representing photographers Jason Tozer, Dirk Karsten, Dimitri Daniloff, Bob Miller, Jean-François Aloisi.

Gianfranco Meza - Barcelona based agency represents Spanish and international photographers.

Infidels Photo-agency - Representing photographers, stylists, and illustrators from South Africa.

Joe Berger - Representing Arne Pastoor, Oliver Mark, Dieter Steinbach, and Stefan Csaky.

Karlee Artist Management - Management company representing hair, makeup, fashion or wardrobe stylist and manicurist.

Lou B Photoagency - Representing four Swedish photographers and one stylist

LundLund Photographic Agency - Representing Swedish photographers and stylists.

M Represents Photography - New York based photographic agency representing various photographers.

Made Photographic Agency - Represents fashion, beauty, and still-life photographers Isabelle Bonjean, Karina Taira, Thomas Straub, Stephan Abry, Gauthier Gallet, Anti Wendel, Brian Whitney, Constant Anée. Marek & Associates Photography Agency - Represents photographers Walter Chin, Robert Erdmann, Fabrizio Ferri, Pamela Hanson, Greg Kadel, Frederik Lieberath, Elliston Lutz, Andrew Reynolds, Myers Robertson, Francesco Scavullo, Mei Tao, Jason Todd, Deborah Turbeville

Rich Hall Reps - Representing photographers and digital imagers providing services to the automotive advertising and design community.

Serlin Associates - Parisian photographic agent presents work carried out by a number of photographers.

Sinopix Photo Agency - Representing photographers specializing in Hong Kong and China.

Tin Agent - Representing Knut Bry, Pål Rødahl, Evy Andersen, Lisa Westgaard, Sigve Aspelund, Pål Laukli og Guri Dahl.

Tom Booth, Inc. - Photographic agency representing Kevin Cremens, Nicolai Grosell, Hiro, Thomas Loof, and Chris Stanford.

Winston West Artist Representatives - Representing celebrity, fashion and automotive photographers.

Witman Kleipool & No6 Agency, based in Amsterdam, representing seven photographers with varied specialties; from food to editorial.

Sudest 57 Represents photographers of international prestige, some of them are very well known authors/artists. We collaborate not only with all the italian and international advertising agencies, but also with companies for institutional projects and for the last 2 years with magazines, too.

The Carolyn Trayler Agency is based in London and represents 7 top advertising photographers who cover still life, food, drinks, people, landscapes and cars. Please visit the website to see examples of work and contact details: http://www.trayler.co.uk

Noelle Pickford The following photographers are represented by Noelle. Browse their portfolios, email them or contact Noelle directly to arrange a meeting. Angus Fraser Carl Lyttle, David Stewart, George Kavanagh, Jess Koppel, Matt Harris, Paul Thompson, Rob White, Sara Morris.

skinnydip.co.uk Photographers: Kent Baker / Frank Bauer / Rebecca Lewis / Stephen Morgan / Lawrence Watson

horton-stephens.com Representing London's top photographgic talent and the award-winning Um, cgi artists

crystalagency.com Representing makeup artists, hair stylists, fashion stylists and photographers. Los Angeles, California.

iconphoto.com REPRESENTING: Richard Bailey, Brian Bowen Smith, Ken Browar, Gwendolen Cates, Walter Chin, Corina Marie, Mimi Craven, Edward Duarte, Jeff Dunas, Sarah Dunn, Robert Erdmann, Roger Erickson, Amanda Friedman, Mando Gonzales, Michael Grecco, Greg Gorman, Dominick Guillemot, Michael Haber, Alexei Hay, Olaf Heine, Jeff Higginbotham, Alex Hoerner, Bernard of Hollywood, Marcel Indik, Russell James, Tony Kim, Nick Koudis, Larsen & Talbert, Mark Leibowitz, Mark Liddell, Blake Little, Kevin Lynch, Wayne Maser, Joseph Montezinos, Geoff Moore, Joe Mozdzen, Myers Robertson, Sheryl Nields, Kate Orne, Manuello Paganelli, Barry Peele, Palefire PR, Shinobu Price, Rankin, Coliena Rentmeester, Lisa Romerein, Brian Ross, Richard Ross, Steve Shaw, Andrew Southam, Dana Tynan, Cliff Watts, Matthew Welch, Jim Wright, Michael Zeppetello

Jo Clark.com London

Talbot Young London

Vue London

The Sharon Brandman Agency represents an outstanding and exciting collection of photographers. Based in London, Sharon is a leading photographic agent, who has on her books some of the leading photographers in their respective fields, including car photography, babies and children, fashion, food, drink and lifestyle photography, animal, still life and underwater photography The Sharon Brandman Agency also offers a full in-house production service having strong links with model agencies, stylists, set builders, model makers, hair/ make-up, and home economists.
werkmodellen.com
photography agency in Vancouver.
John Parkinson Agency
London.
Abby Johnston
London. Colin Bell, Steve Brown, Caroline Irby, John Reardon.
TMlondon
London

Mark Gibson London

If you would like to advertise on this page please click here for further details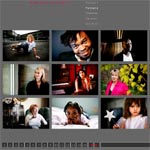 Sophie Laslett
Sophie Laslett, photographer, Norwich, UK.

Sophie's editorial and portrait photography is well documented on her web site as are her more general photographs. Sophie shows portraits of actors, artists, musicians, writers, directors, and celebrities both young and old.