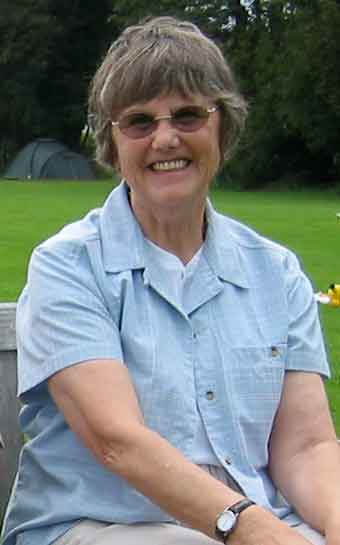 Joyce Laslett only daughter of William and Maff (Margaret Cora Cole) Laslett. Sister to Eric and Roy

Eulogy
As you will see from the front page of the order of service,
Today is all about celebrating of the life of Joyce Williams
( formally - Laslett) I think that we all know that Joyce would
not have wanted people to be sad & miserable at her funeral.
She was never a one for too much fuss & over displays of
emotion.
She was one of those remarkable individuals who had an
amazing positive outlook on life "Endure what you must,
but enjoy what you can" was her mantra. Indeed, she
displayed this right to the end of her life.
Despite everything she had to go through She was never one
to really complain. But, on the odd occasion that she was ever
challenged that this might have been the case, she would
forcefully state that she was "Merely stating facts".
I admired the fact that she always looked for the positive in any
situation. I have to say that the dignity, courage & inner
strength that she demonstrated over the last 12 months,
enduring an intensive course of chemotherapy was
inspirational. I have been through a tough time personally over
the last few months. But when I saw how my Mother was
remarkably coping with her own personal battle, it gave me the
inner strength & inspiration as a remarkable role model to pull
myself up from a low point & remember what was truly
important in life – so I have her to thanks for that, & the
example she has set will remain with me & be my inspiration
for the rest of my life.
But moving on to why we are here today & the celebration of
her life –
Joyce had a strong personality & a love of taking risks & having
fun– even as she got older, she refused to let go of her tom
boy behaviour & still insisted on climbing trees, & scaling
ladders in order to cut down the highest branches on hedges in
her garden, without ever asking for help. At times also
including foreign travel in respect of taking long haul travel
holidays across the world on her own. Joyce was never someone who was afraid to speak the truth &
give her opinion on matters & many of us have been on the
receiving end of her forthright views. But the one thing I would
say is that they were honestly held views & she always said the
truth, no matter how painful that was sometimes for recipients!
She was in fact one of the most honest people I have known. A
trait that I frequently been told that I share - Honest to the
point of eye wateringly rudeness!
But despite this, I loved the fact the she was genuinely very
accepting of people & situations just as they are. If things
didn't interfere with her, then she would generally let well be.
"I don't necessarily agree, but then I don't particularly
disagree"
Joyce was also extremely practical – able to work out practical
solutions to problems
In fact she could be completely counted on to deal practically
with problems, without any fuss.
As a Taurian, born on the 2
nd
May, one of her character traits
is quoted as "having a general reluctance to give up
single status – Needs to be wooed & pursued by
someone persistent" Those of us from the Laslett &
associated families all know how hard my Dad, Raymond, had
to work over an extended period of time at wooing Joyce, if I
am correct I think he had to make at least 3 proposals of
marriage before she eventually said "yes". But it was obviously
the right thing to do as after their marriage in the impressive
Southwark Cathedral on the 2
nd
December 1961, last year they
celebrated 50 years of marriage, which is an amazing
achievement. I know that Joyce & Raymond shared many
hobbies & interests, particularly their love of classical music &
travel. They may have both been strong willed individuals but
I know that it was incredibly important formy Mother to
support my Dad in his career and was a remarkable "home
marker". Her cooking & baking were second to none. Even into
retirement, it would be fair to say that she dedicated her final
few years to ensuring that my Father, Raymond had the very best care imaginable. (Even though Raymond may at times
have felt that he was actually at Boot Camp!)
She was also someone who loved having her time out with
nature. Whether this meant visiting National Trust Gardens or
being in her own gardens at home in Charing – Gardens were
one of her greatest passions. She would lose herself in flower
& plant heaven – lost in her own contemplation, even when she
was going through the chemo in recent times, her gardening
was a great comfort to her. In earlier years she even won
awards for local gardening competitions. (Gardens in Bloom-
Charing). I am sure that many of us here today have either
received plants as gifts from Joyce, or been given guided tours
round her garden, visited National Trust gardens with her, or
quite frankly been bored to death with all the Latin names of
every conceivable plant imaginable. I thought I was safe going
on holiday to Greece with her – but she even knew the chuffing
names over there too!
As I have previously mentioned, Joyce was never one to make
an overt fuss about things – she did not necessarily show her
feelings through words, but through her generosity, both of
her time, her gifts & her practical help. I know that she
absolutely adored her four grandchildren, Rebecca, Charlotte,
Lucy & Benny. She thoroughly enjoyed contributing towards
dance lessons, school trips, clothes & fun days out. She spoke
enthusiastically as would any proud Grandma, about how they
were all growing up & progressing in life.
In addition, in her earlier years she devoted a great deal of
her time to voluntary work. She was truly the champion of
worthy causes. One of her greatest gifts was her kindness to
others & this was a gift that she used throughout her life to the
benefit of others who were less fortunate. I remember when
we were living in the West Midlands, her regularly going to
Winson Green Prison in Birmingham, working in the canteen at
the visitors centre. I am sure she saw some interesting sights
there! The when moving to Charing, she worked as a member
of the WRVS, with her friend Wendy at St Augustine's Hospital
(For the Mentally Impaired) also in the canteen – I vividly recall hearing some thoroughly entraining stories of some of the
confusion between the Doctors/Visitors & patients!
She also gave up her own time to help out with the "Pop in
Centre" at the Pym House Elderly Care Home across the road &
the Aldington Prison near Ashford.
As a youngest I remember her cooking extra Christmas dinners
to take round to the elderly people in Charing who did not
have any where to go on Christmas day & would not have any
visitors. That is the essence of who Joyce truly was about – a
genuinely caring, loving, selfless & charitable lady.
Joyce loved understanding how things worked – and as I have
previously mentioned her practicalities shone through with her
ability to self teach herself many skills. Fortunately this included
decorating – which is probably just as well as Dad, whilst
incredibly academic was not gifted in this department.
I also recall last year when she broke her ankle, finding that
she had adapted an office chair to scoot around on downstairs
so that she could still cook & make drinks for herself & my Dad!
She was adamant that she didn't need any external special help.
She spent several weeks thoroughly upsetting the social
services visitors by whizzing backwards & forwards from the
lounge to the kitchen, with drinks & meals, despite them trying
to tell her that the chair was quite simply not health & safety
compliant. As we are in a place of God's worship (I won't
repeat what she said about that observation!)
But then as I have said, Joyce always had a strong will. I once
remember hearing a quote from Margaret Thatcher , when she
said that "This Lady is not for turning". Well I think that that
would appropriately describe Joyce, once she had made her
mind up about something.
And so we move onto the subject of SUBBORNESS. Oh yes, any
of that know her well knew I how splendidly suborn she could
be .... I did have a smile on my face when I was considering
what music to include in her service today & toyed with the
idea of having "I did it my way" By Shirley Bassey – but then
thought better of it!! She may be resting in a peaceful place,
but knowing my Mother it would not stop her applying a heavenly slap to the back of my legs.
In respect of her stubbornness, sadly I never really learnt my
lessons in trying to push her into making decisions that in my
opinion were in her best interests. As we all know, Joyce
certainly did not like being told what to do. As many of us
found to our detriment, any attempt to push her into a decision
was doomed to failure. She frequently would remind me that
"You may be a Police Commander but you're not at
work now dear & I have a mind of my own you know!"
Well that certainly told me & I suspect that there are many of
us here today who had similar occasions of receiving robust &
firm feedback!! But then I guess that this is why we loved her
so much, because she knew her own mind & was not prepared
to acquiesce unless she had time to reflect and then make her
own decisions in her own time.
In addition to gardening & travel, Joyce loved a number of
other things in her life (Other than her husband, Raymond of
course!). These included Jigsaw puzzles, baking & in her
younger years sewing. I remember her incredible cooking
skills. Homemade bread, cakes & Sunday dinners were her
trade mark. Although she did always work on the ethos –
"Waste not, Want not" Probably a fall back from the
rationing in the war! So Peter & I grew up knowing that
nothing should be wasted in the kitchen. This unfortunately
resulted in quite a traumatic experience for my Auntie Margaret
& Uncle Rob, who had travelled down to see my Mother many
years ago. Auntie Margaret unwittingly mentioned that she had
a number of uneaten marmalade sandwiches left from the
journey. Little did they both know that these were to form the
basis of being transformed that evening to a "Joyce Summer
Pudding". It was only after Rob had enthusiastically praised
Joyce for such a wonderful dessert that the true horror of the
ingredients came to light. As always, my Mother has a
mischievous grin on her face at the sheer naughtiness of what
she had done! I do not think that Auntie Margaret has ever
quite recovered from that experience!Which leads me onto the fact that I think we all loved the fact
that at times Joyce was a little off the wall, quirky, humorous &
in fact downright eccentric at times. I know that these were
adorable that traits she shared with both her Mother & two
brothers, Eric & Roy. As we know, humour has played a great
part in their relationships & has been carried on through the
generations throughout the vast Laslett extended family.
I would say, that Joyce was probably at her most hilarious
without even knowing that she was being funny.
An excellent example of her eccentricity were the names that
she thought up for her beloved Labradors: Jonathon, Teddy,
Dora, Sunshine & Pippi (I could never quite understand where
on earth she thought up all these bizarre names!). Teddy
because he looked like a Teddy bear as a Puppy, Dora, because
she was "Adorable" & Sunshine because she brought so much
"Sunshine" into my Mum's life. But then I am not sure about
Pip! Let's only hope it was not because she thought that she
looked like Auntie Pip!!
But on the subject of Pippi – one of the last conversations we
had was regarding me giving her my absolute assurance her
that I would find Pippi a good home. I am somewhat relieved
that this was actually after the first request to make sure that
my Dad, Raymond was given the very best care! So I would
like to extend my sincere thanks to my cousin Mary & her
husband Chris for adopting Pippi into their family. I know that
Joyce would be smiling down today feeling so pleased that she
was staying within the family.
And as I draw to an end I would like to say a few words about
my Mothers friends. I know that Joyce chose her friends
carefully – and kept them close, staying very loyal as they were
to her. I am delighted that June, Wendy & Robina & other dear
friends are able to join us today. I know that she placed a great
deal of value on your friendship. In addition to the fun &
companionship you gave her over the years, I know that you
were all amazingly supportive when she was going through her treatment over the past 12 months. I know that she found that
great Comfort.
Well I am running out of time. I know that I could carry on for
much longer talking about what a remarkable woman my
Mother, Joyce was in her lifetime. She was a Daughter, Sister,
Wife, Mother, Auntie, Great Auntie, Grandma & Friend.
If I could sum up Joyce in three words they would be
CREATIVE – KIND HEARTED & COURAGOUS.
We are all here today to pay our respects for what she
represented in our lives. She was a loving, fun, remarkable, &
inspirational woman.
We are all going to miss her, but are all enriched for having
had her in our lives. She will certainly never be forgotten. x


Some other fond memories of Joyce
Patrick:
Many Sandwich relatives remember several Boxing Day festivities, where Joyce was very hospitable and welcoming to her home. Joyce was an avid gardener who loved to tend her garden. Patrick has fond memories of garden discussions and sharing plants and cuttings. Patrick also remembers Joyce having him and Angela to stay for the weekend in North London and taking him and Angela to Central London and showing them the sights.